For a complete list of training options scroll down the page...
---
1-on-1 personal coaching / Team Mates (2+ clients) / Small Group / Team Training. For a monthly discount... Checkout our "Auto draft" program. If you're a 1st time participant, please enter the registration fee!
Scroll down to see a list of programs and pricing
(Click on drop-down arrows to see pricing options)
---
Annual Registration fee ($25)
For brand new clients an annual registration fee of $25 is required

---
3 month progressive workout ($45/Mo.)
Need a little help getting started? Not sure what to do when you get in the gym? Want to $AVE on the cost of personal training?
How about a Coach to sit down with each month and go over a progressive printed routine?!
Great for toning, firming and weight loss!
3 month ASSISTED program includes:
- Printed routine / Coach covers the workout with you.
- Come in around your schedule!
- 12 week routine divided into 3 monthly progressive workouts.
- Covers your monthly "Open gym" usage fee!
Includes FREE evaluation with % body fat
and nutritional meal plan info.
SCHEDULE YOUR COACH'S CONSULTATION TODAY!!

---
4 week written program ($150)
4 week customized program to take with you "off-site" or
to use at The EDGE. We take you through the whole 4 week program and teach you how to do each exercise. More detailed, individualized and specific than the 3 month written routine. Great for athletes with intense goals! Get your COMPETITIVE EDGE started today by calling us and giving us the details of what you want to accomplish!

---
OPEN GYM
Use the gym anytime on your own, during open times
around our group training schedules.
Starts the day you pay and continues for 1 month
from that day.

$30/Mo. no contract


$20/Mo. for 6 months (contract)


$10/Mo. for 12 months (contract)



---
30 Minute Circuit Training Class
Adult Fitness
Any fitness level, come as often as you'd like!
Mornings and evenings / New class starts every 15 mins!
Sign up for days and times (check current schedule)

Coach/Instructor guided - Small Group Training

Unlimited classes as low as $4/session!Adult Fitness (Cross Training) / Youth Sports Performance
Adults Fitness:
Train in a positive, athletic environment and be coached
on a variety of drills/exercises to help you achieve your fitness goals.
TONE / FIRM / BURN FAT / RE-SET THAT METABOLIC CLOCK!
Morning, evening and weekend sessions available!
Youth Performance:
Open to all athletes, all sports, year-round.
Evening and weekend group classes available.
Sport-specific training to improve
SPEED, STRENGTH, AGILITY, CONDITIONING and FLEXIBILITY.

See schedule for details on class times. Classes last approximately 60 mins.
Join our small group classes anytime! 8-12 participants / Coach-instructor.
All classes have a 2 month time limit unless otherwise directed.
Private personalized training/coaching also available 24/7.
Save with our 1-3-6-12 month unlimited programs!
(If you're going to train 3 or more times per week... this is the way to go!)

---
3 month Unlimited
($125/mo.)
---
6 month Unlimited
($100/mo.)

---
12 month Unlimited
($75/mo.)

---
10 session Punch Card
($185)


Come to any 10 group sessions over a 2 month period.
Great for "In-season" training or when you'll only be
working out 1-2x's/week.

---
Family Packages


For group classes... 1st family member pays full price for training, each family member pays $50 per month for Unlimited Group Training.

Family Packages are for current/immediate family members in the same household.


1 month Unlimited:


3 month Unlimited


6 month Unlimited


12 month Unlimited

---
Semester Packages
Student athletes / School sponsored / Team Training


Get your TEAM ready!
Speed, Strength and Conditioning programs to improve your performance!
(For College, High school, Middle school, Home school, and Club teams)

Customized training for Teams! You choose days, times and frequency per week. Morning and evening sessions available year-round! Sport-specific workouts for your team for Fall, Spring and Summer. Schedule times before, during or after school. For all sports: boys / girls - baseball, basketball, cheer, football, golf, hockey, lacrosse, soccer, softball, swimming / diving, tennis, volleyball, wrestling and more! Also includes help with team fundraising.

---
| | |
| --- | --- |
| Corporate Packages | Ask us about our special pricing for corporate employees. |
---
Private Training
1-on-1's / Team Mates (2+ buddies) / Teams
Individualized custom training to work on "specific skills" or those
"problem areas". You choose the days, times, frequency and duration.
Available in 30 and 60 minute sessions.

Includes Sports Skills, Sports Performance, Adult Fitness and Physio-Therapy

Schedule your time with one of our Performance Coaches!
---
30 minute 1-on-1's
1, 10, 20 sessions
(Click on down arrow for options)

Private training to work on "Specifics"
(Technique work / Problem areas).

---
---
---
---
---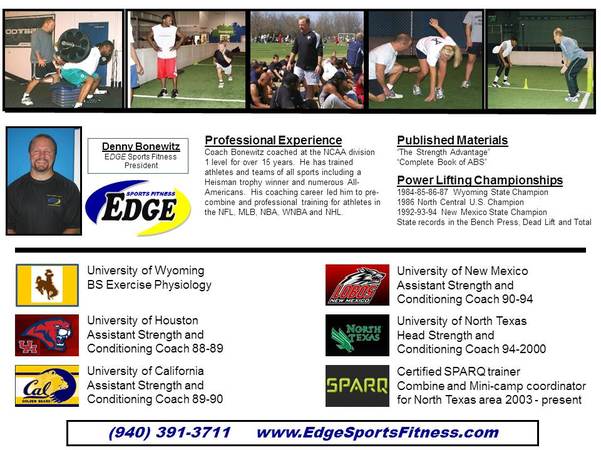 1-on-1's
with Coach Bonewitz

Call to book your times.

(940) 391-3711



30 & 60 mins. available



Click on the boxes below to see multiple sessions and discounts.

---
---
---
COMBO Training!
Combine any of the above training sessions with each other. Add on a Team Mates training to your normal SMALL GROUP CLASS and work on specific areas....
Sports example:
Do the Speed/Agility class from 6-7:30 pm... But, add a half hour Team Mate training session to work on a skill like Offensive line blocking technique or softball hitting instruction for 30 minutes before or after the group class.


Adult Fitness class example:
Need more flexibility in the lower back or want to work on those problem areas... hips, thighs, belly? Then do a semi-private Team Mate training before an Adult Fitness class and use the Boot Camp for your conditioning, toning and firming.
Combine a 30 minute Physio-Therapy session/Deep tissue stretch with a workout! Use it before to warm-up or after to help with recovery.
Ask us for pricing on "Combo Packages".