13816 Santa Fe Crossing Dr., Edmond, OK 73013 / (940) 391-3711

The EDGE Sports Fitness

Train in an athletic environment to develop life enhancing skills that will improve performance, help prevent injuries and promote longevity. Proven results for your SPEED, STRENGTH & AGILITY! Whether you are an athlete trying to take your game to the next level or an adult trying to improve your fitness level, EDGE Sports Fitness offers a training program for you!



To help improve your results... We offer training Year-Round (Pre-season / In-season / Mornings / Evenings / Teams / Small groups / 1-on-1) THERE IS "NO OFF-SEASON!" Ask ask these athletes and coaches...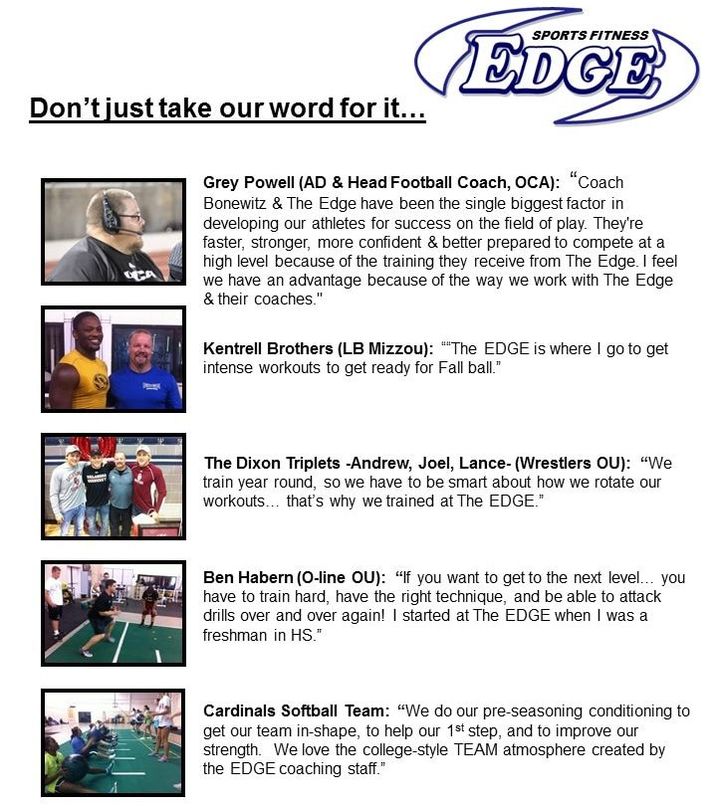 Also available: Indoor/Outdoor field rental, Batting cage rental, Deep tissue stretching, Nutritional guidance, and Skill instruction for Football, Softball, Baseball, Soccer and Basketball. From private 1-on-1 Coaching to Small group to Teams. And... YES... Adult fitness classes too!!
​
Current & up-coming camps, clinics, training, events...
Upcoming Camps & Clinics

Set up your FREE Profile page prior to the event so you can get immediate access to your results!
Go to www.blastathletics.com
Join the Edge Sports Fitness "Club" team
RSVP for the Event

EDGE Athlete Challenge
Saturdays in June / 11-12 noon
Who's the BEST Athlete in Oklahoma?!


Find out by coming to our Athlete Challenge and get your rating.
Get BLAST'ed out of a cannon on speed drills,
Get your SWAG on for athleticism... GET YOUR EDGE!

Event includes:

10 yd. Dash (40 yd dash explosion)
Vertical Jump
Pro-shuttle
SWAG Challenge (#theswagchallenge)

Laser & Digital scored!!
Shirts and give-a-ways to top performers!
Videos posted on your profile page!!

---




---

POOL WORKOUTS
Great for cross training and helps...
RECOVERY
CARDIO
STRENGTH
JOINT MOBILITY
TONING & FIRMING
Train hard while your body is buoyant in the water. Find out what "WHITE WATER" means with our EDGE Coaches!

Available with Small Groups, Team Mates or 1-on-1 private training (Stating in May '17).

Ready to get DUNKED?!
Come join us for a great workout!

Come get your EDGE!


---

Get the most out of your workouts!
Help your body recover and improve your performance!

Checkout our Combination package for 50% off each service!

1 Month unlimited group fitness training / normally $150 / you pay $75
4 Chiropractic adjustments / normally $260 / you pay $100
4 Massage sessions / normally $280 / you pay $140

TOTAL PACKAGE = $315 (You save $375!)
1-month UNLIMITED Adult Fitness Group Training
4 Chiropractic adjustments and 4 Massage therapy sessions


---
Football Skills Training
All positions (1-on-1 Coaching)
Team mate sessions also available!



Position specific coaching for the fundamentals of Football including:
Leverage and hand positioning / Defeating blocks and pass rushing / Passing, Receiving, Coverage skills, Offensive and Defensive reads / For skill positions and linemen!


Click on boxes below for drop down info:

---
---
---
Summer Speed & Agility Camps
Available for ALL SPORTS / 2 Locations / 6 weeks
Middle School, High School, and College athletes!
-weights, conditioning, flexibility and functional drills-
Develop SPEED - STRENGTH - POWER
Trained by EDGE Sports Performance Staff
Morning, evening and weekend times available!

1 mo. UNLIMITED = $150
3 mo. UNLIMITED = $375
10 session punch card = $185
+$25 Reg. Fee

---
Get your sweat on!

Adult Fitness Classes!
Group training (morning & evenings)
1-1 personal training (Available 24/7)
Massage therapy / Deep tissue stretching (by appointment)
Chiropractic services (by appointment)
OPEN GYM (Train on your own / Low as $20/mo.)

See below for our Adult fitness class... go to our "PRICING" tab for more options and $AVE with our Unlimited packages!
---- As low as $2.33 per session!! ----

---
---
​

Adult Fitness Training

Individual, team mate and small group Fitness Training to help you:

BURN FAT
KEEP MUSCLE
TONE UP
INCREASE ENERGY

Group fitness classes / 1-on-1 training

Indoors / Mornings & evenings

No gym contracts / Always a new routine

Motivating environment / Results driven

Challenging for ANY and ALL fitness levels.
Athletic development is something that more and more people are now getting into. It doesn't matter what level of fitness you're in, what's important is that you strive to always better yourself.
If you're in Edmond, Oklahoma, other areas in Oklahoma, Arkansas, Kansas, or Texas, and are looking for a great place to get outstanding strength training, speed agility training, sports performance training, and other types of athletic training with professional strength and speed coaches, you couldn't have come to a better place!
Welcome to EDGE Sports Fitness - The premier destination for total fitness in Edmond, Oklahoma
We specialize in a wide range of fitness training programs which includes:

- Combination training

- Functional training

- Rehab training

- Skills training

- Strength training

- Explosiveness speed training

- Speed agility training

We provide:

- Exceptional training with professional strength and speed coaches

- Obstacle courses / Power circuit training / Agility drills

- Nutritional guidance and support

- Functional training / Pre and Post testing

​

We offer:

- Group fitness classes / 1-on-1 training

- Indoors / Mornings & evenings

- No gym contracts / Always a new routine

- Motivating environment / Results driven
We provide our clients with a standout athletic environment that helps them really focus on what they need to get done. When you come to us, you'll train with professional strength coaches and speed coaches in a fitness club type facility that houses obstacle courses, power circuit training, agility drills.
All our fitness training programs are challenging for ANY and ALL fitness levels. From kids looking to get into sports, to seasoned professional athletes looking for continuous improvement - we've got all your fitness needs covered here at EDGE Sports Fitness!
So for all your one on one or group training needs, call us today at
+1 940-391-3711
!
You may also join us on Facebook at
https://www.facebook.com/edgesportsfitness
,
Twitter:
https://twitter.com/EDGEsportsOK
, and Instagram:
https://www.instagram.com/edgesportsfitness/